What is Cork?
Posted by MELISSA EVANS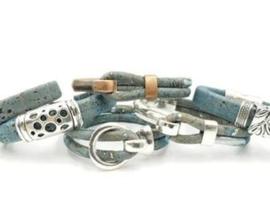 Cork is a material obtained from the bark of the cork oak. It is a natural, sustainable and recyclable material. It is a renewable resource that has been used for centuries for a variety of purposes, including as a closure for wine bottles and as a material for flooring and insulation. Cork is an environmentally friendly product that is also biodegradable.

The uses of cork

Cork is a versatile material with a wide range of applications. It can be used for insulation, as a soundproofing material, or even as a bulletin board. Cork is also becoming increasingly popular as a sustainable building material.

Most importantly, cork has become a valuable material for making jewelry. From earrings to bracelets to necklaces, cork is a valuable substitute for leather.

Cork in jewelry

Cork is a beautiful, sustainable material that can be used for all kinds of jewelry. From bracelets to necklaces to earrings, jewelry made from cork is unique and stylish. Plus, it's environmentally friendly!
Cork is the bark of an evergreen tree that grows in Mediterranean countries. The cork oak is harvested every 9 to 12 years and the bark regenerates, making cork a sustainable and renewable resource.
Cork has been used for centuries in wine bottles, as flooring and in other areas where its unique properties are beneficial. These properties include being lightweight, fire-resistant, waterproof and buoyant.
Cork is also hypoallergenic, making it a great material for jewelry that is meant to be worn next to the skin.

Benefits of Cork Jewelry

There are many benefits to wearing cork jewelry. Cork is a natural and eco-friendly material, so you can feel good about wearing it. Cork is also very light, so it's comfortable to wear all day long.
Cork jewelry is also unique and stylish. You won't find anyone else wearing the same piece of jewelry as you!

How to care for cork jewelry

Cork jewelry is easy to care for. Just avoid getting it wet or exposing it to excessive heat or sunlight. If your cork jewelry does get wet, just let it dry naturally.
If you need to clean your cork jewelry, just use a soft cloth and some mild soap. Avoid using harsh chemicals or cleaners on cork.
Cork jewelry is an excellent choice for eco-conscious fashionistas who want unique, stylish jewelry.

The different types of cork jewelry
As we've mentioned, cork is very versatile and is being used in the making of all types of jewelry. On our site, GemLoungeJewelry.com you can find a wide variety of jewelry to suit your particular needs. Here are some of our most popular products:
Pick Your Color-Cork Silver Open Hook Bracelet: This bracelet is so easy to put on and off and is one of our most popular unisex bracelets! Features cork wrapped around the wrist with a silver buckle clasp. Choose from our many available colors!
Maine Circle Charm Cork Bracelet: One of our most popular Maine charm bracelets. features one of our signature silver side hook cork bracelets and a recycled sterling silver Maine circle charm.
Wine Cork Bead Bracelet: One of our most popular bracelet designs! Genuine cork magnetic bracelet. This bracelet is available in a beautiful rich wine color. The bracelet is finished with a new hook clasp and all the metal components are hypoallergenic.
Wave Cork Bracelet: The bracelet features a silver wave focal bead and is finished with a new silver hook clasp and all the metal components are hypoallergenic. 
Rainbow Dot Cork Walnut Wood Necklace: One of our newest and most creative designs are these adorable cork and walnut wood 3 hexagon necklaces. Laser cut with our own original designs and made of lightweight rainbow dot cork and walnut wood. The pendant is wrapped in recycled sterling silver and hung from sturdy Rollo chain and finished with a matching lobster clasp.
Circle Cork Earrings-Design Your Own: Our circle cork earrings have the biggest variety in colors available in any of our earrings. These earrings are so light weight that you won't even realize you are wearing any!
Open Leaf Cork Earrings: Gorgeous open leaf earrings made out of cork and finished with handmade recycled sterling silver earwires.
You can always check out our site and find many more unique pieces waiting for you. 

More uses of cork

We know, we know, we already told you about so many uses for cork and it's amazing benefits... So could there be more? Absolutely! We love so much how sustainable and eco-friendly cork is, that we even turned it into handmade bags and wallets!
At Gem Lounge we believe you don't have to compromise style to be environmentally conscious, so we created our own line of cork handbags and wallets. Check out some of our most loved items:
Tan Cork Triple Zipper Bag: One of the newest designs offered in our store. This genuine tan cork triple zipper bag has plenty of pockets and space for all of your valuables!
Black & Tan Cork Tote: Beautiful two toned cork tote featuring black and natural cork. Multiple zipper pockets on the inside and outside. Shoulder straps and zipper top closure.
Bright Blue Floral Cork Women's Zipper Wallet: This genuine colorful cork zipper wallet has multiple compartments for cards, cash, etc. Also comes with a matching wristlet strap.
Whatever your cork needs, you can always count on Gem Lounge. Our wide selection of unique, handmade cork products is sure to fit your style!
Collection 2019
Sale 70% Off
Title for image