History of the Original Maine Flag
Posted by MELISSA EVANS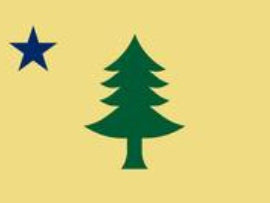 The original Maine flag

Maine became a state in 1820 but it wasn't until much later that an official flag was created. The first official Maine flag was adopted only in 1901 and featured a pine tree and a blue north star on a cream colored background. The flag was likely created by marine committees who were interested in a state flag that would be recognizable from a distance at sea. The flag was used until 1909 when it was replaced by a new design. The second Maine flag featured a green field with a white pine tree in the center. This flag was used until 1917 when it was replaced by the current flag design.

The current flag of Maine has a blue background with the state coat of arms in the center. The coat of arms features a moose and a pine tree. Above the moose are the stars of the North Star, which is also featured on the flag of Vermont. Below the moose are the words "Dirigo", which is Latin for "I lead". This motto was chosen because it reflects Maine's history as a leader in shipbuilding and fishing.

The North American Vexillological Association (NAVA) conducted a survey in 2001 that ranked Maine's current flag as one of the worst in design, which is why the original flag is regaining popularity. Mainers believe, and for just cause, that the original flag is a true representation of Maine pride.
If you've ever visited Maine you know that there is something special about this beautiful place and being that close to nature. If you're lucky enough to have grown up or lived in Maine, you know our pride in our state runs deep. This can be seen with the deep love of history and pride in our original Maine flag.
The Original Maine Flag and Gem Lounge Jewelry
Maine is a state full of pride and history. The deep love for our original Maine flag shines through in everything we do. We at Gem Lounge find ourselves amongst the supporters of the original Maine flag. We believe, beyond its uniqueness, that the flag represented what the Pine Tree State is all about. So much so, that we made the flag the inspiration for our one-of-a-kind Maine jewelry and apparel collection. Check out some of our most popular designs:
Original Maine Flag Pendant Sterling Necklace: It's hard to think of Maine without thinking of our amazing coastline! This new Maine pendant was inspired by the Original Maine Flag. This pendant necklace is made of pure recycled sterling silver. Our Maine jewelry line is inspired by all the beauty there is to find in this wonderful state.
Gold Mini Original Maine Flag Pendant Necklace: This pendant necklace is made of genuine 14k gold fill. Our Maine jewelry line is inspired by all the beauty there is to find in this wonderful state. The necklace is finished with a durable gold filled cable chain and matching spring clasp.
1901 Maine Flag Engraved Black Flask: One of our newest collections are these fun engraved black flasks. Perfect for a Father's Day gift or for someone special in your life. 
1901 Maine Flag Faux Leather Patch Winter Pom Hat: Our own take on Maine's historic original Maine flag which flew from 1901-1909 is now available as this beautiful leather patch hat.
Black Original Maine Bamboo Patch Hat: This hat features our take on the 1901 Maine flag which flew from 1901-1909 which features this design on a bamboo patch and securely attached to a black weathered hat.
Original Maine Gray Leather Patch Hat: This leatherette patch is securely attached to a denim blue low profile adjustable hat. 
If you also support the Original Maine Flag, check out our site for more flag inspired unique designs!
Collection 2019
Sale 70% Off
Title for image