Moonstone Engagement Rings
Posted by MELISSA EVANS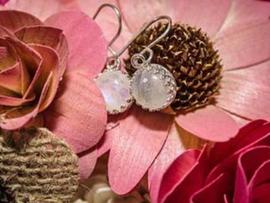 What is Moonstone?
Moonstone is actually a member of the feldspar mineral group.  Feldspar is one of the most prevalent mineral found on the planet.  Other members of this mineral group consist of labradorite (moonstone's sister stone), rainbow moonstone, sunstone, and amazonite.  Moonstone and labradorite both have the cloudy irradescent glow that isn't found in any other stone in the world.  
Is Rainbow Moonstone a Real Moonstone?
Rainbow moonstone technically isn't even moonstone at all but a variation of labradorite.  It's translucent beauty is hard to deny and makes an amazing statement piece!  Rainbow moonstone pieces are so beautiful and can go with any outfit that they make a must have for any collection.
Non Traditional Engagement Designs
Because of the natural beauty of moonstones, they make a wonderful non traditional engagement ring.  We have a gorgeous rainbow moonstone ring that we've sold numerous times as an engagement ring.  All of the designs that we carry are created with American made, recycled genuine metals.  All of our gemstones are also locally sourced.  
Moonstone Sterling Silver Ring, Gem Lounge Jewelry, $68
 Rose Gold Moonstone Engagement Ring, EJCollections, $895
 Moonstone Halo Engagement Ring, MichelliaDesigns, $695
 Princess Moonstone Engagement Ring, Belesas, $178.99
Why Choose Handcrafted?
All of our handcrafted designs are created right at our lakeside studio in Maine.  We utilize all recycled and eco-friendly genuine metals and locally sourced gemstones whenever possible.  Here at Gem Lounge Jewelry, being eco-friendly is also important to us.  We use recycled packaging including boxes, cards, etc along with our recycled materials in our designs.  You will be happy to know that all of our jewelry from Gem Lounge Jewelry is all created with love in the U.S.A.
Collection 2019
Sale 70% Off
Title for image